Are you a member of PPRNET and a board-certified FP or board-certified internist?  If you are, you can relatively easily submit PQRS data to CMS through the American Board of Family Medicine website (ABFM) or the American Board of Internal Medicine (ABIM) website (link information is below).  The data may be submitted as soon as it is collected, but it must be received and submitted no later than January 10, 2014 for patients seen in 2013 (this deadline is for ABFM diplomates).  I will lay out some background information and the steps to do this in the document below (this is for the ABFM process but the ABIM process will be similar).  You've got time but don't delay!
Background
The Medicare, Medicaid, and SCHIP Extension Act of 2007 (MMSEA), enacted on December 29, 2007, authorized the Centers for Medicare and Medicaid Services (CMS) to make PQRS incentive payments to physicians for satisfactory reporting of quality measures data in 2013. It also established alternative reporting periods and criteria for the reporting of measure groups and of PQRI quality measures through a clinical data registry. To date, the PQRS has been a voluntary program, offering incentives to physicians who report on a designated set of quality measures. While the PQRS will remain voluntary, starting with the 2013 reporting year, it will include both incentives and penalties for non-participation. For further information, please visit http://cms.gov/Medicare/Quality-Initiatives-Patient-Assessment-Instruments/PQRS/index.html.
CMS has granted approval to the ABFM to submit PQRS data to CMS on behalf of its Diplomates using the ABFM Performance in Practice Registry (same is true for ABIM). You may use the PQRS Diabetes Module to collect and submit data to the Registry on a set of 20 unique, separate and distinct patients with either type 1 or type 2 diabetes mellitus. These patients must be between 18 and 75 years of age, and the majority (11) must be covered by Medicare Part B Insurance (although you may collect data from patients covered by Medicare Advantage Programs, these patients will not satisfy this requirement). A patient may be counted only once during the reporting period for a single provider as the data submitted must be for 20 unique, separate and distinct patients, with a minimum (11) being Medicare Part B beneficiaries.
In 2013, physicians who meet the criteria for satisfactory submission of quality measures data for 20 unique, separate and distinct patients during the reporting period January 1 –December 31, 2013, will earn an incentive payment of 0.5 percent of their total allowed charges for covered Medicare Part B Physician Fee Schedule (PFS) professional services provided during that same reporting period.
So Let Us Begin:
You should have already gathered data on 20 unique, separate and distinct patients. You can use the PQRS Data Collection Templates or you can use the PPRNET Patient Level Report (see below). Remember that a majority (11) of these patients must be Medicare Part B beneficiaries. 
Before your start, have ready:
Your ABFM login and password
Your PPRNET Patient Level Report (PLR) report (having chosen the 20 Diabetes patients from your PQRS worksheet in the PLR). I just used the 3rd quarter report.

Using the PLRGUI utility on the PLR to re-identify the patients with the chart ID will make this process much easier.  We have Robert Pierce, MD to thank for creating this useful program.  You can get the PLRGUI utility on the file sharing part of the EMR village. (located at http://emrvillage.com/ppshare/ - under Add-On programs or under PPRNET)

Your NPI number (not the practice NPI number)
The TIN (Tax ID number) that your practice uses to submit claims to CMS
Read the introduction and the PQRS Roadmap before you begin and have the instructions on how to use the site available for reference. (links provided are pdf documents)
Login and follow the prompts based on the instructions.  When submitting the data, I used the "GRID VIEW" which presents patients #1-10 and then #11-20 respectively.
Having the PLR PQRS worksheet made this most tedious part of the process relatively easy.
First, using the PPRNET PLR PQRS worksheet, I selected only my patients and then Medicare as the insurance carrier (I know... I only needed 11 of the 20 but made this was easy).
Then I selected the 20 patients I wanted to use and deleted the other rows.
Of course, I saved this PLR spreadsheet with a different name.
Here is the PQRS worksheet (re-identified) for the 20 patients.
First Half of above image:
Second half of Full PQRS spreadsheet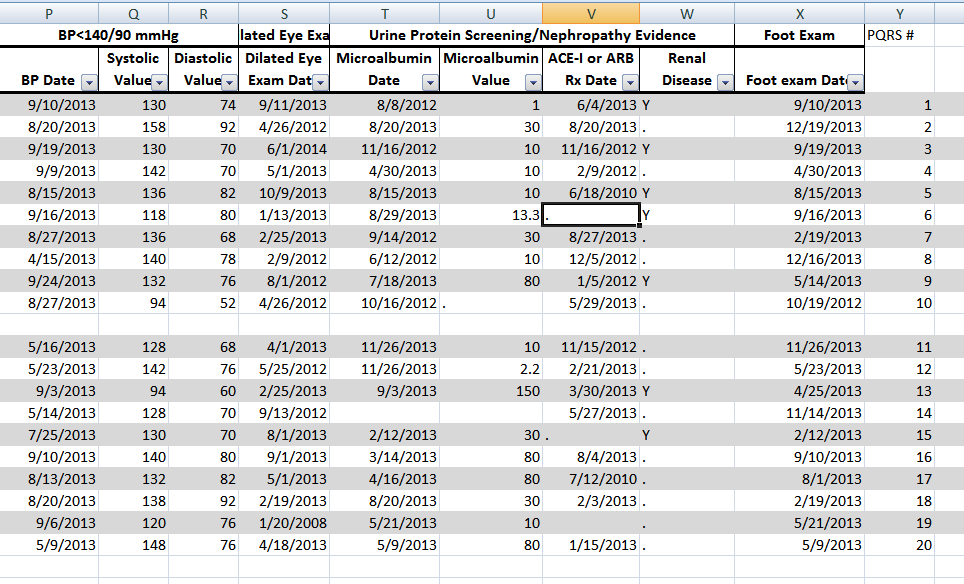 Using the PLR PQRS worksheet really indentified s a few shortcomings in how we record discrete data so PPRNET can extract it.  Additionally, PPRNET has not worked out how to extract the eye exam (not yet but coming soon) but luckily it was easy to put in the spreadsheet using our HM data (had to open each chart).  We have not yet configured the EMR to record nephrology referrals (coming) and whether testing for macroalbumin urine testing has been done when there is an abnormal microalbumin (will be using a revised Diabetes Mellitus Health Maintenance Template).
On the ABFM site, from start to finish, it took me 3 hours to do this work.  So the relative amount of work was really minimal to get the reimbursement from CMS which will occur mid-year 2014.  (I know some of you could probably do this even faster!)
Approximately 3% of the PQRS registry's participants will be audited, so it is important for you to retain the templates (or PLR PQRS worksheet)  you have completed.  Since you will be sending the ABFM de-identified data, these templates (or PLR) provide the only link between the data that you have sent to CMS and the patients that you have seen, which must be verified if you are randomly chosen to be audited.
So information to save post submission:
PQRS Templates (or your PPRNET PLR - the PQRS data on the 20 patients)
Your PQRS ID (in case you or your staff will need to go into the PQRS data later). This is a separate ID which is created during the ABFM PQRS submission process.  It is not saved by the ABFM so saving this is important should you need it later. (The instruction document notes where this ID number is located).
After you have entered and then submitted the PQRS data, you will receive a report providing feedback on your performance on each of the PQRS measures. This report will include a comparison of your performance along with your peers' performance.  The performance reporting is the last requirement for PQRS and the ABFM will transmit your data to CMS in the first quarter of 2014.  For ABFM diplomates, this PQRS submission service is free.
Once your PQRS data collection is complete, you have the option to continue the module as a Performance in Practice Module to receive MC-FP Part IV and/or CME credit.  When completing the 2013 PQRS Diabetes Module for MC-FP Part IV credit, you may be able to opt to wait until 2014 to collect your post-QI intervention data; and (if available) use the 2014 PQRS Diabetes Module to collect data on another set of unique, separate and distinct patients and qualify for the 2014 incentive payment.  (You must currently be enrolled in MC-FP to receive Part IV credit).  A module fee or MC-FP fee may be applied if you decide to continue the module at that time.
If you have any questions about completing your 2013 PQRS Diabetes Module, please refer to the Frequently Asked Questions on the ABFM site. If you have additional questions, or concerns, you may contact the ABFM Support Center at 877-223-7437, or help@theabfm.org.
If you are a board certified Internal Medicine physician you can find the information to submit your PQRS data at:
http://www.abim.org/maintenance-of-certification/physician-quality-reporting-system.aspx
Closing
I hope this lays out the process and you find this helpful.  I am grateful for PPRNET for providing the PQRS worksheet as part of the PLR to make this process incredibly easy compared with other methods.